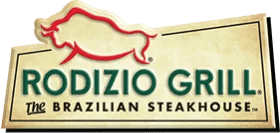 Commercial kitchens present flooring systems with significant long-term performance challenges. Food production floors are subject to constant chemical attack from grease, aggressive chemicals, and a host of cleaning solutions. Many restaurant kitchen floors utilize enzymatic cleaning agents to help clean up grease and animal fats. These products produce damaging oleic acids and other problematic substances that will also attack the flooring system itself. In addition to providing adequate slip resistance, commercial kitchen floors must also maintain a high level of cleanliness and function to minimize the potential for microbial growth.
As one of the very first Brazilian Steak House chains in North America, this restaurant has been serving large quantities of fine meats and other products for decades. These restaurants are extremely high-traffic applications, with chefs and servers working feverishly to deliver all you can eat steaks, chicken and anything else you can imagine. As such, a sanitary flooring system is critical for safety and efficiency.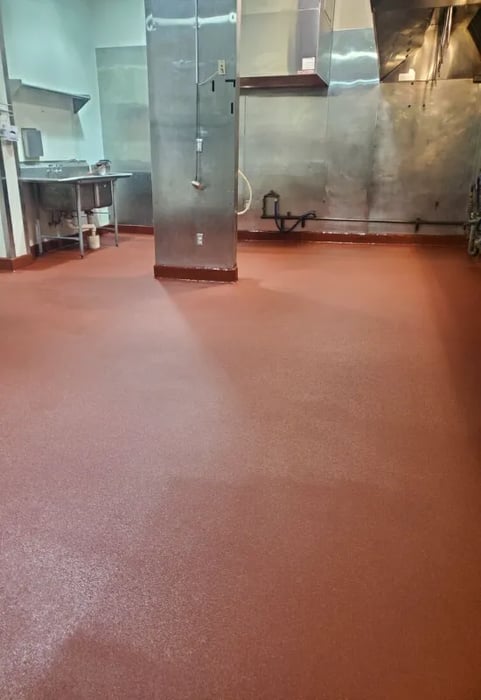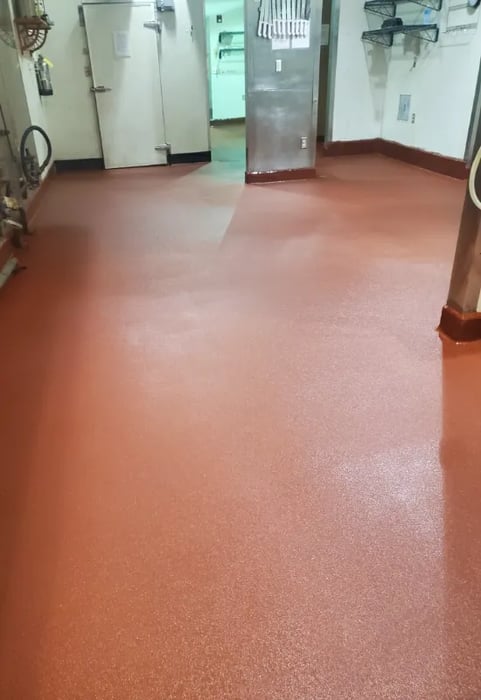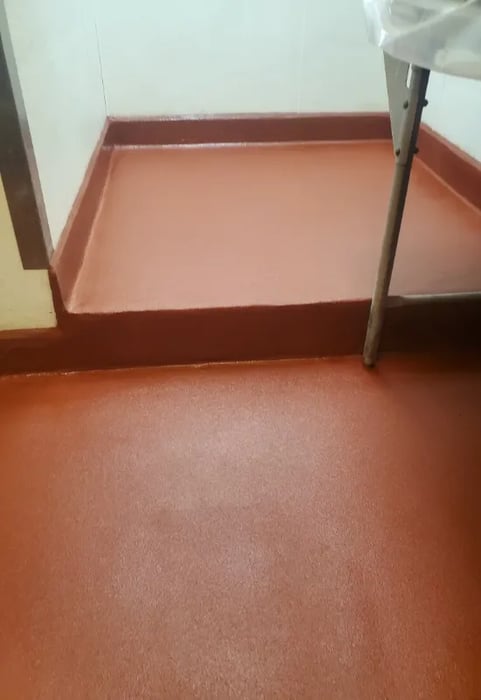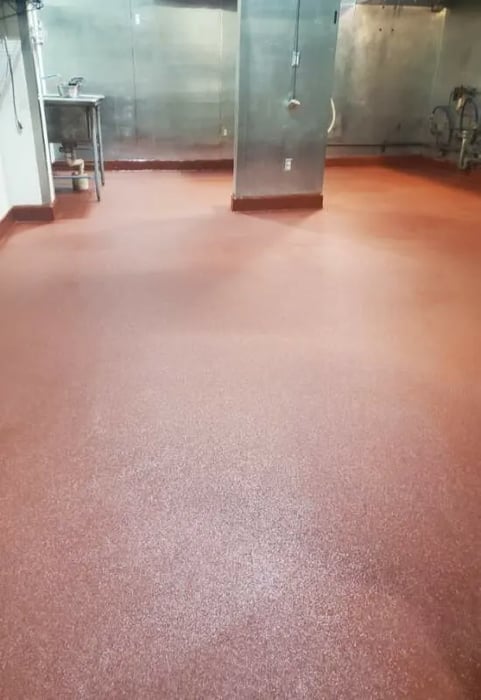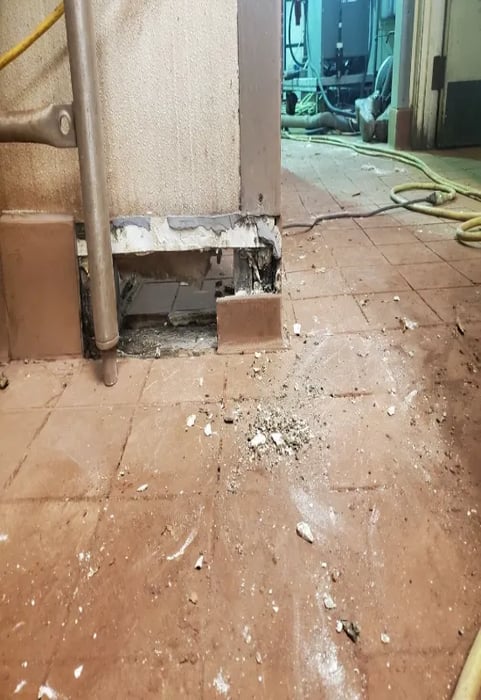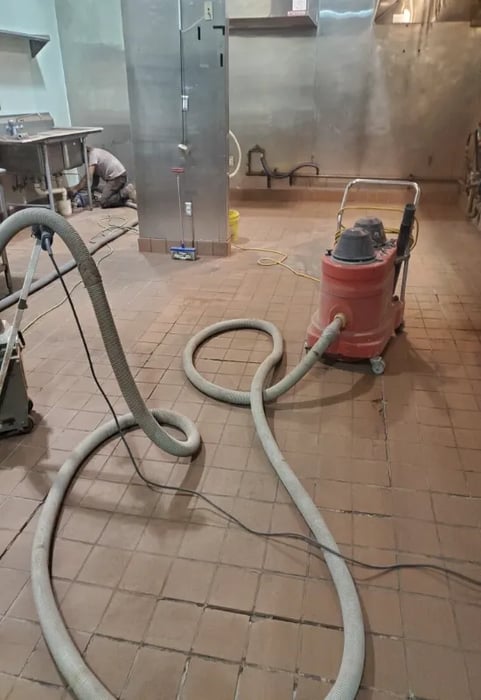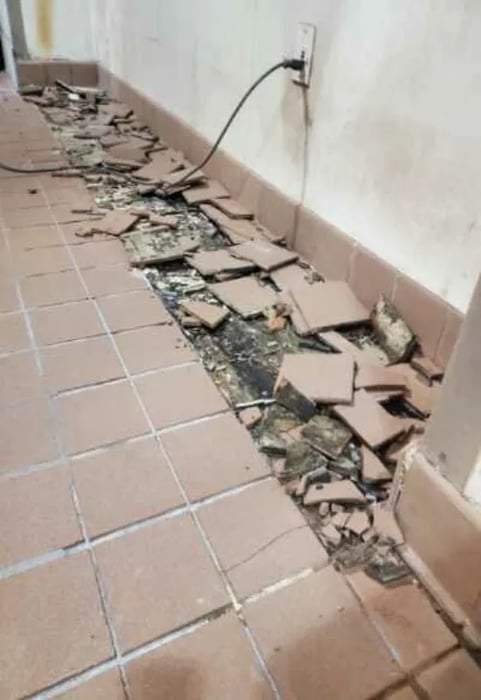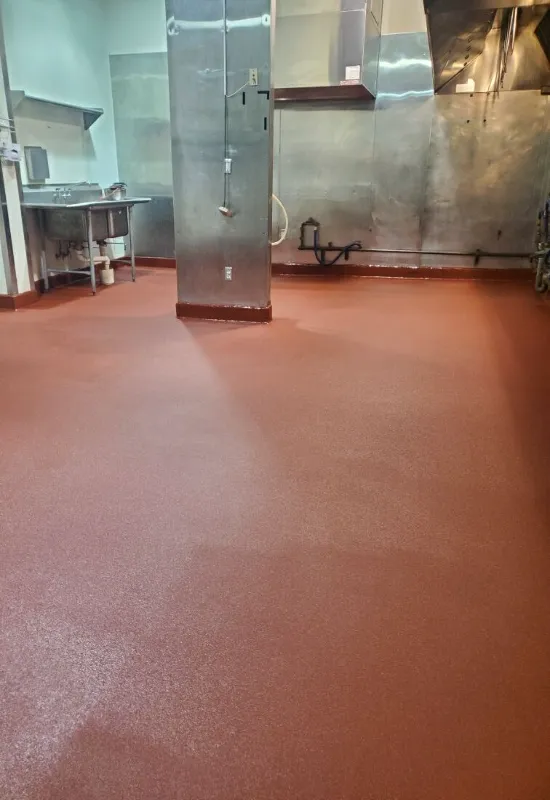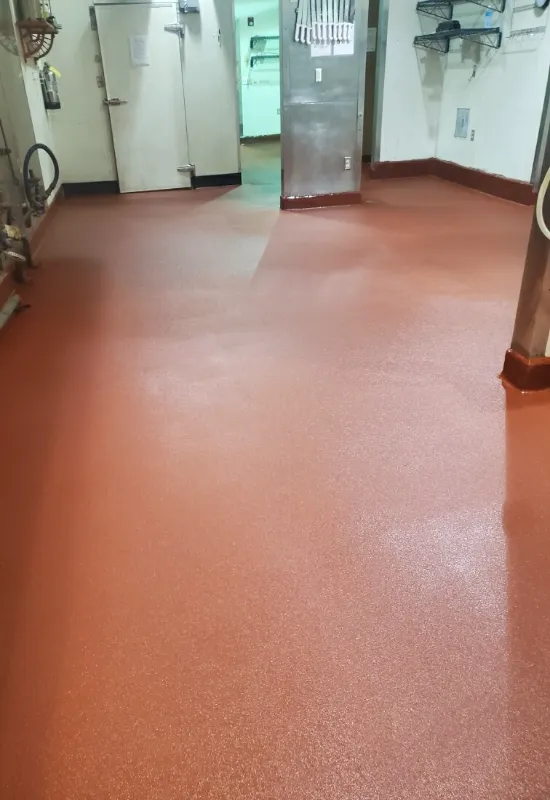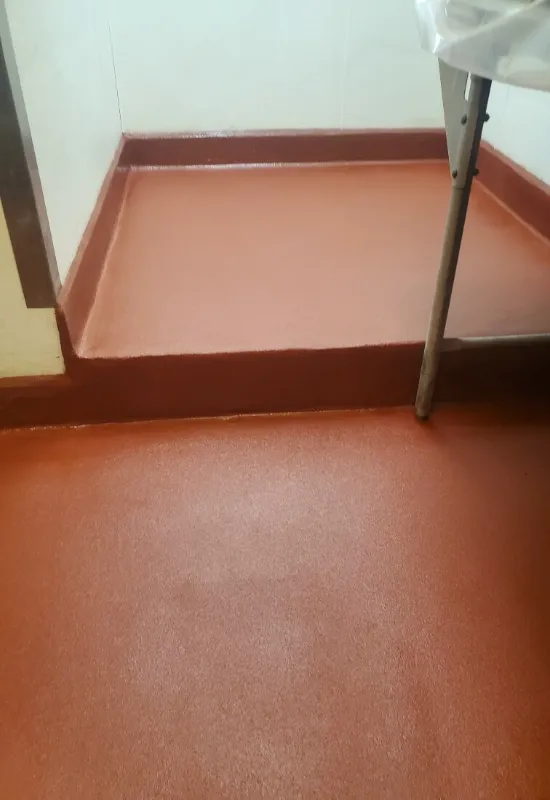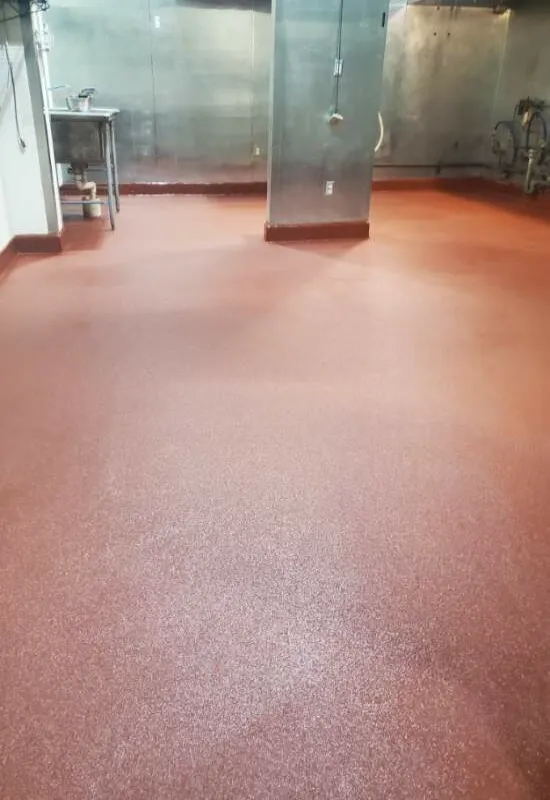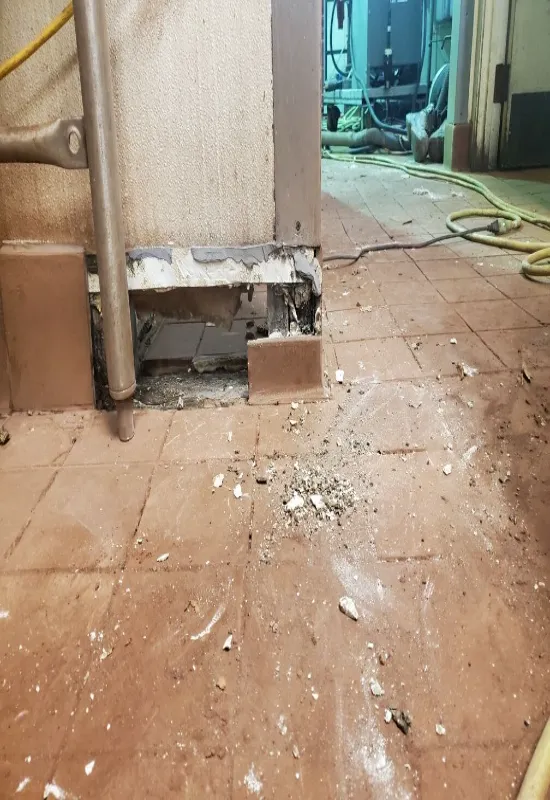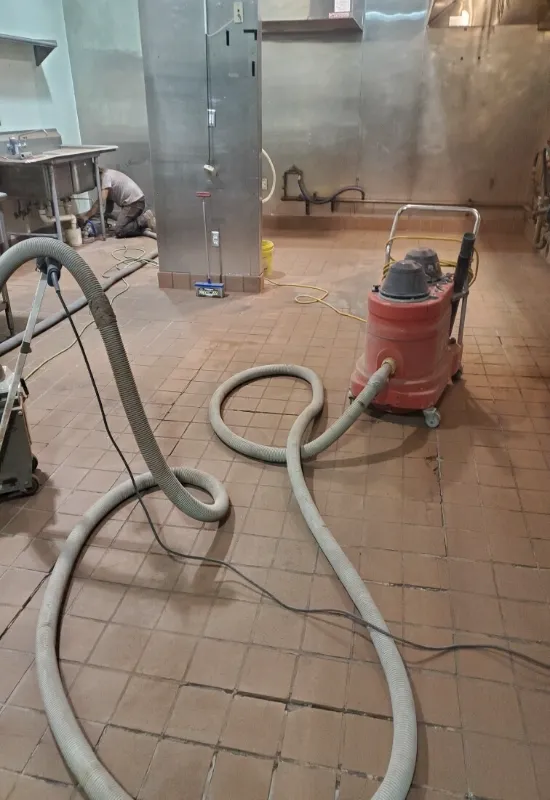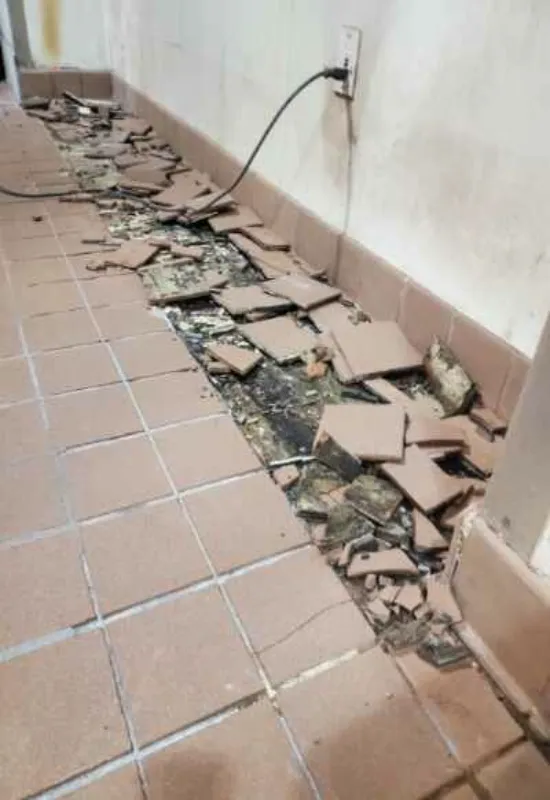 In 2020, their Minneapolis location contacted Resinwerks to fix their floor. The kitchen's existing quarry tile floor was failing due to degradation of the epoxy grout. Tile grout was coming loose, causing tiles to come up and creating large voids in the floor – leading to the potential for contamination. The work needed to be completed quickly, over a single weekend to limit downtime and overall expense.

Resinwerks partnered with one of its leading national contractors and specified the Bio-Cem™ Monofloor Polyurethane Concrete with a high-performance Kinetic HS™ Polyaspartic topcoat. The topcoat was fortified with silver-ion anti-microbial pigments to help inhibit bacteria growth on the floor long-term.

After thoroughly grinding the floor and removing all loose debris, the contractor installed a vertical radius cove base around the perimeter using the Bio-Cem™ Cove base system. Once the radius cove was in place, the contractor poured the Bio-Cem Monofloor Slurry at a rate of ¼" directly over the profiled tile surface. The system was then broadcast to rejection using a heavy-duty colored quartz aggregate. Once cured, the entire system was then top coated with the High Solids, chemical resistant Polyaspartic. In addition to offering high chemical resistance to a host of chemicals as well as enzymatic cleaning agents by-products, the Polyaspartic topcoat was also fortified with Micro-ban silver ion pigments for an added level of protection against bacteria spread. Completed in just under 36 hours, the finished system was completely seamless and provided the client with an easy to maintain, sanitary surface. The integrated quartz broadcast also provided adequate traction for the wet, greasy environment.

The client was extremely pleased with the finished system. The existing tile did not need to be completely removed and replaced, saving significant time and cost. This system will now provide substantial long-term protection for years to come while providing for a far safer, and cleaner environment.
Aggressively profile existing tile and remove loose debris
Repair damaged areas, rebuild stair risers and install radius cove base around the perimeter of the floor using BioCem™ Cove Base Mortar
Apply Single Coat of BioCem™ Mono-floor Slurry, followed by a quart broadcast to rejection. 1/4" thickness
Topcoat with Kinetic HS Pigmented and anti-microbial fortified High-Solids Polyaspartic finish coat
Get In Touch Today
Contact us to discuss your application, get samples
or schedule an estimate.
Subscribe
To our newsletter